Since they all look beautiful, I awarded myself few choices for the sake of having difficulty of choosing the best-dressed female celebrity on this year's Oscar Awards Night. Without a specific random order here are the best dressed ladies.
MELANIE GRIFFITH
  
Would have love to give her sleek,simple and sophisticated black gown a four stars. Topped with the perfect set of jewelries and slim purse. I always have a thing for black dresses specially with this kind of cut. I would have opted for her tattoo covered, but, it didn't affect her look at all.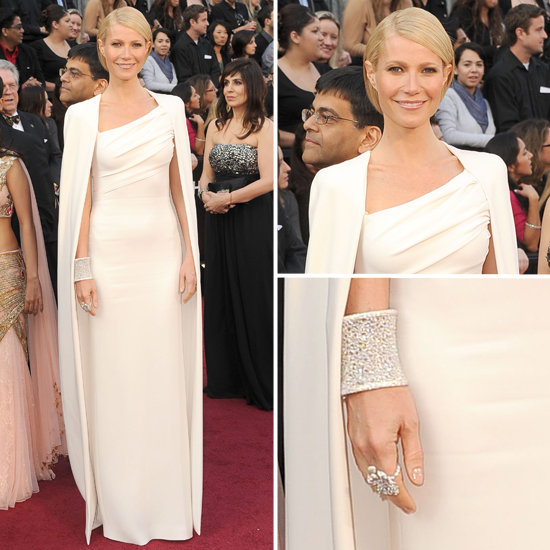 GWYNETH PALTROW
White always suits her perfect. She always carries it with so much elegance and drama behind its simplicity. I am a little iffy about the cape but she went up the stage without it and she still looks amazing! With or without cape, she is indeed one of the best-dressed of the night. Others couldn't help to notice and would ask: "What's with the boring hair?" For me, it's never boring nor plain but elegantly simple. Oh, check out the bangle type diamond cuff and intricately stylish ornate ring on her index finger, which compensates her not wearing a necklace and earing.  I like her too much for this!
MILA JOVOVICH
Another perfect white elegance is Mila Jovovich. I have learned that this is her first time at Oscars and with that gown, I guess she left a very good first Oscar's impression on the red carpet specially with that blazing hot red lipstick which matches the the beautiful hairdo. Can't wait to see her on Resident Evil Retribution when it hit the screens come September.
TINA FEY
This appearance of Tina Fey in a Carolina Herrera midnight blue tube gown just proves everybody that she is good not only in cracking jokes and being funny. The simple black belt highlighted the peplum design of the gown. A lighter shade jewelries gives her total picture an outstanding effect.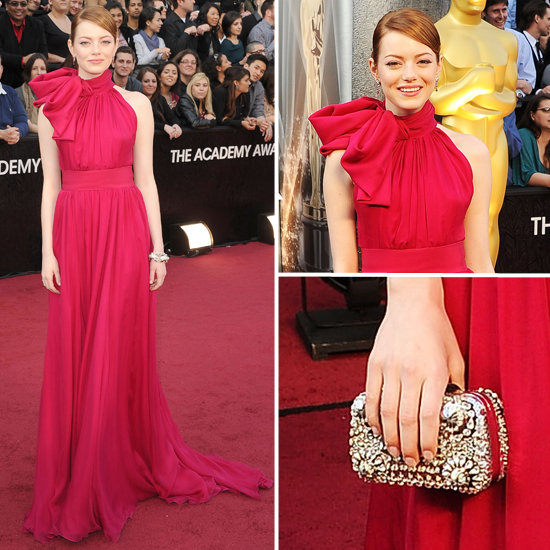 EMMA STONE
A perfect five star rating for her stylish, flirty, fun and girly red tied-neck gown. I always love Emma and her almost always neutral make-up like this one. I love the way she had her red flocks do in a sideswept bun. The clutch is an LV, so I've learned  and its being intricately detailed does make the look truly beautiful.
So there goes…. how about you dear readers? Who do you think stand out at the red carpet with their 2012 Oscar's look?